Tea Room History
Tea rooms were very popular in America in the first half of the 20th century, both as places for women to go and as businesses for women to run.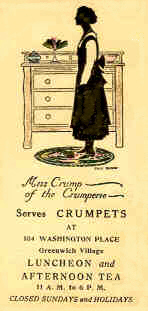 Mary Alletta "Crumpie" Crump ran the Crumperie with her elderly mother for about 10 years. In that time, she moved the little tea room about six times. That was not unusual in Greenwich Village, where everything was very fluid during the Bohemian teens and 1920s. The Crumperie drew actors and artists from the area. Like other Village tea rooms it was a place to hang out, play a game of chess, eat a bowl of pea soup, and visit with friends.

The Crumperie interiors were decorated in a homey style with a quilt on the wall, and the bureau that you see in this drawing. When Crumpie was fortunate enough to secure a location with a fireplace, she placed a duck decoy on the hearth. In the Crumperie guestbook, a guest wrote:

The decoy duck sits by the fire
All day, and never seems to tire
He wears a feather in his tail
And eats the crumpets when they're stale.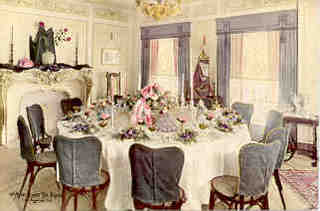 Further reading:

"Tea Rooms," Town and Country, June 24, 1905.

"Charm of the Colonial Tea Room," New York Times, January 26, 1908.

"The Development of the Tea Room," Harper's Bazaar, March 1908.

"Taverns and Tea Rooms as a Business for Women," Herminie Dudley and Sarah Leyburn Coe, Good Housekeeping, June, 1911.

"The 'Tabby Cat' Tea House," Elizabeth L. Adams, House Beautiful, August, 1914.

"The Coming of the Tea House," Mary Harrod Northend, American Cookery, June-July, 1915.

"Do You Own a Barn, and Old Mill or a Tumble Down House?" Woman's Home Companion, May 1922.